Participation of Tilcom Ltd. in the creation of modern vision of Sofia Central Railway Station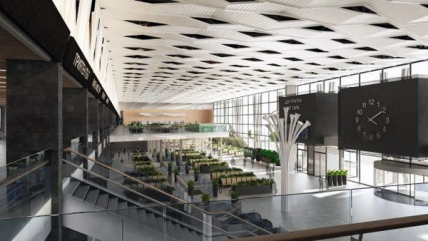 The citizens of Sofia can now enjoy the renovated Central Railway Station, which thanks to funding received from OP "Transport" will enter the list of the city's attractions.
The renovated building received its new look after nearly two years of renovation, during which were updated as pavements and overall architectural appearance and electrical, lighting and fire alarm system. Tilcom Ltd. is a major provider of both cable required for elektroinstalatsiata and a wide range of accessories such as corrugated pipes, PVC pipes, cable accessories and more.
This is the first renovation of the Central Station from its construction back in 1974. In this regard, the main power supply and communication lines were replaced during repair. Electrical materials and cables for these routes are delivered by Tilcom Ltd., as a longtime supplier of electrical cables and meet all European quality requirements. In this regard, the high quality of the materials used to build communications and electricity infrastructure are essential for the safe operation of the passing through railway lines. As proven in the years provider of high quality telecommunication, power and signaling cables Tilcom Ltd. once again proved its reliability by meeting all delivery  and technical requirements.
The renovated building meets all the requirements for energy efficiency, photovoltaics are installed to provide electricity, heating and cooling of the waiting room.
Team Tilcom Ltd. is proud to become part of the creation of modern European vision of the city.